Assalamualaikum,
Hi, it's me. This entry I am going to share my experience with all the cleansers I have used. Actually, I have this self-conscious feeling about my skin at age of 24 or 25 like that. Before that, I did not even care to wash my face. Of course I always washed my face with water while in shower. Sometimes, I just used whatever my mother bought. I did not even know what brand is, what the ingredients, is it safe?. As long it does its job. Even people around me always compliment me that I did not have any problem with my facial skin. That was before I aware of my self-conscious.
Ok, proceed to the cleanser. Cleanser is just a basic things that you need. It's not about being beautiful or glowing, it is just about being clean. I don't understand people who do not wash their face. You wash your body, but you do not wash your face? Face is the part of body that getting exposure the most. That's why we need a facial cleanser.
My first experience with a cleanser was Biore (blue bottle). I think I was 14-15 years old that time. I lived in a boarding school and saw alots of my friends having facial cleanser. Meanwhile, I am just using my body wash to wash my face (even hair). I was just feeling neutral with this cleanser, I like it because it has 'cool' feeling on my face. Maybe it has mint or menthol. I don't really know. It was old cleanser by
Biore
back then in 2002-2003. It was in blue tube.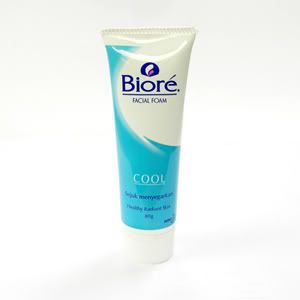 I think it look like this. I don't remember.
After I finish this cleanser, I did not but any cleanser for about next 3 years. I just wash with water or with body wash or just some soap I found in bathroom. After I enrolled to a college, my mother bought me a soap. She said use this soap to wash my face. But I rarely used it. I used when I was feeling realy really really dirty. This soap is called
Golden Herbs
by
Sendayu Tinggi
. It contains honey and a type of mushroom which is called Ganoderma. I don't care about that mushroom, but I like honey.
I used Golden Herbs for too long about 5 years I think, until I graduated. It does it job wonderfully. At that time, I did not have problem with my skin or my self-conscious is not alive yet. The bad thing about this soap, it kind of thinning your skin. My skin is quite young at that time. So, it's not really irritated or gave me problems. You know how young skin are oily-heavy and thick.
Next cleanser was from
Safi Balqis
, the ordinary one. And sometimes, when my Safi cleanser was running out, I'll bought
Eversoft Deep Nourishing
. My skin was still fine with Safi Balqis cleanser. It was really making my face look brighter. Same goes with Eversoft.
This is old packaging.
Again, the old packaging.
These are just cheap cleansers. I'm a cheapskate. I don't really spend my money on skincare.
Next cleanser are my beginning where my skin is getting so much problems. It was from a product that I found online. Looking at the amazing testimonials, I've order for one trial set of this product. It is called Nourain Beauty Care. The cleanser was quite good. When I was currently using this product, it was makes my face glowing and flawless. I was really amazed. But I stopped because it was difficult to find this product offline.
On the negative side of this soap cleanser, the soap was easy to melt. And quickly finish. Even though I have cut into 4 parts. I have to say honestly, I am disappointed using this whole product. It gave me rebound effect. Then, I bought
Hada Labo Hydra & Whitening Face Wash
. This one did nothing to me. My face were not getting better. I changed again to
Shaklee Nutriwhite Gentle Deep Foaming Cleanser
. Most expensive cleanser I had ever buy. It was about ~RM100. And this one also not a good cleanser for me. It was just a gimmick. Putting all the herbs that gives benefits and claim to be natural. The ingredients list is like an essay, lots of crap things that does nothing. This is worst than Safi Balqis.
Nutriwhite Gentle Deep Foaming Cleanser from Shaklee
After that, I used
Cetaphil Gentle Skin Cleanser
for all skin types. This cleanser is quite affordable. At first, it was really helping in fading my pimples. I used about 6 months, my face was getting worst day by day. A lots of acne, blackead, whitehead popped up. And they leave me scars. I don't really know what went wrong but one thing I disliked this cleanser was it didn't foam. Maybe my face were not clean enough without foam.
When I finish Cetaphil, I tried the natural / organic claim products. It was called
Moogoo Fresh Goat's Milk Cleansing Bar
. This one was just like Cetaphil, at the beginning it was good and then gave me trouble. But it was still good at cleansing.
Moogoo Fresh Goat's Milk Cleansing Bar
I stop my post here. All of this products are totally my honest review and experiences. I will post another entry about my cleansing routine and cleanser I am currenly used. It may effective for me but maybe it is not effective for you. It may not effective for me but it may effective for you. Oh, I forgot to tell, my skin type is normal-combination to oily. Sometimes can be dry. And I have big pores. Ugh, it is difficult to explain. Just to remind you I live in Malaysia (Southeast Asia), a tropical rainforest climate country where the temperature is 34 C at the max and 24 at the min.
Ok, Bye.
Wassalam.